The Challenge
As a result of the clarifier failure, a higher dissolved organic and suspended solids loading was being sent to the tertiary ponds.

Due to the increased organic loading on the tertiary ponds, solids carryover to the POTW and the threat of odor generation in the system were higher than deemed acceptable. Therefore, an impending plant shutdown was being considered to decrease wastewater generation long enough to empty and repair the clarifier.
The Solution
The client called the Veolia Water Technologies' Mobile Water group to determine if Veolia might be able to help them with this problem. After discussing the situation on the telephone, exchanging technical data and exploring numerous scenarios, it was decided that Veolia's mobile Actiflo TURBO ballasted sand clarification technology was capable of temporarily treating the plant's 1100 GPM of highly organic wastewater, while allowing the clarifier to be repaired without the need for a production shutdown.

Within 36 hours from the initial call, a treatment plan was developed and the Actiflo TURBO unit was on the road.
Process Description 
The Actiflo TURBO is equipped with a coagulation tank, a flocculation tank with Turbomix, a hydraulically optimized settling tank with lamella and a hydrocyclone for microsand washing and recovery.  The Turbomix is designed to enhance flocculation through homogeneous mixing of the coagulated water, microsand and polymer with reduced retention time and energy consumption.
Upon arrival at the plant, flexible piping was connected to the Activated Sludge effluent and rerouted to the Actiflo TURBO unit.
Influent Characteristics
Inlet water MLSS averaged 2000 mg/l
Inlet water flow averaged 1020 GPM
On-site ballasted jar testing determined that Veolia's Hydrex 6345 organic flocculant provided the most effective treatment at a 2-3 PPM dosage.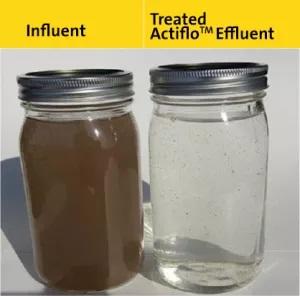 The Results
In very short order after being connected to the plant's clarifier influent and balancing the polymer/ballasted sand additions, the Actiflo TURBO began to produce extremely clear effluent. Effluent quality averaged < 50 mg/l of Total Suspended Solids.

The performance of the Actiflo TURBO unit allowed the customer to repair their clarifier without having to experience any production downtime or environmental/social impact of improper wastewater effluent, saving hundreds of thousands of dollars.
The Client
A large, integrated natural gas cracking plant in the Midwest, producing ethylene which is then converted into low and high density polyethylene resins for use in a number of different consumer products.
Key Figures About The Plant
In operation for over 50 years
Over 440 employees
Located on over 235 acres
Operating its own water and wastewater treatment plants