Keeping Industry Flowing With Temporary Water Treatment Solutions
Mobile water treatment systems delivered to your site, whenever you need them. 
Veolia offers reliable, secure, 24/7 services to suit all requirements. Pre-packaged on a trailer, skid, or container for maximum mobility and responsiveness, a portable water treatment plant will instantly enhance your facility. 
 
One trusted provider, three flexible mobile water treatment services:
Planned Maintain the provision of treated water during scheduled maintenance, upgrade, or commissioning.
Multi-Year Standard water treatment solutions for up to seven years.
Emergency Short-term, immediate response to cover and ensure business continuity in the case of an unexpected event.
Our mobile water treatment systems are deployed via stand-alone units or modular units in combination to form complete systems with state-of-the-art purification technologies. Mobile solutions use our Actiflo®, Hydrotech Discfilter™, reverse osmosis, ion exchange and multimedia filtration technologies, delivered through trailers, containers and skid-mounted systems. Mobile water treatment systems offer a cost-effective alternative to fixed plants across many industrial environments.
 
Choose our 'plug and play' mobile water treatment plant solutions for a wide range of applications, including:
Equipment breakdown
Plant commissioning
Maintenance outages
Process trial
Delayed delivery of new plant equipment
Meet peak water demand rates
Accommodate changes in raw water quality
Environmental cleanup & remediation
Providing high-quality assets and services, our clients have assurance in the quality of our processes, technical expertise and services. All Veolia Mobile Water Services engineers are trained and certified to local and any necessary quality, health and safety standards. Safety should not be compromised.
USA/Canada Mobile Water Services Key Contact Information:
 
US-Industrial Contact Info
Michael Reyes (Wastewater applications)
Ph: +1 704-650-0881 - Email
Stewart Moore (Process Water applications)
Ph: +1 346 842-2698 Email
US-Municipal Contact Info
Ph: +1 888-578-4378 Email
 
Canada Contact Info
David Oliphant (Wastewater applications)
Ph: +1 519-501-1046 Email
Jamie Hawes (Process Water applications)
Ph: +1 647-544-6548 Email
Whatever your requirements, Veolia offers mobile water treatment services to suit your business.
Mobile Water Services Featured Resources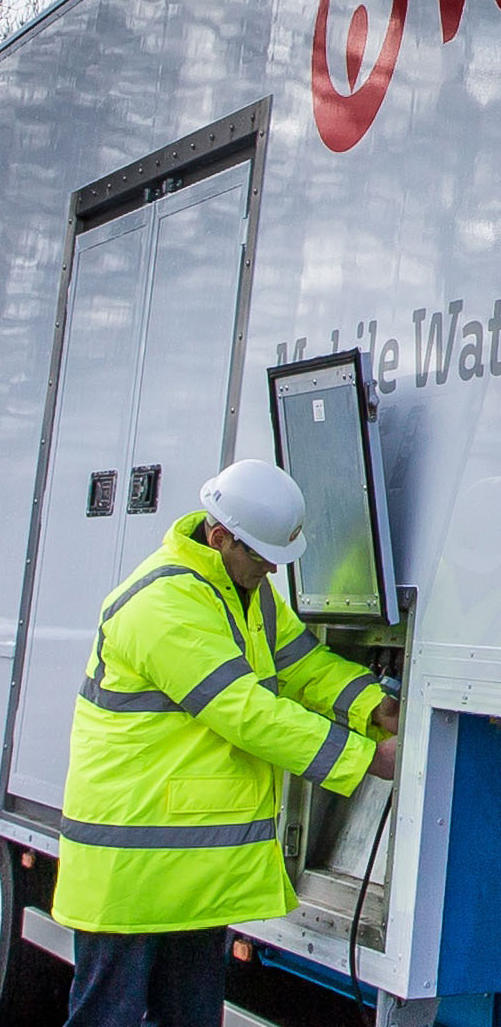 Ag Processing
Chemical & Petrochemical
Food & Beverage
Mining & Mineral Processing
Municipal
Oil & Gas-Refining
Pharmaceutical
Power & Cogeneration
Primary Metals
Refining
Water Utilities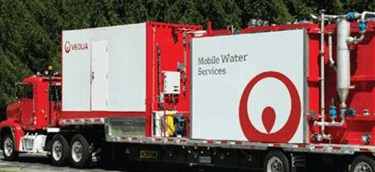 Case Study: Client recovers $5 Million in coal after coal pile runoff pond volume reduction
Client: Large American Power Company
LOCATION: United States
Flow: 50-1000 GPM
Processes: Actiflo® Turbo & Hydrex Chemicals
Challenge
The Client had a need to treat and discharge coal pile runoff water containing high amounts of total suspended solids from its facility. 
The Client had tried several other technologies  in the past such as conventional clarification, DAF & compressible sponge-like media filters, developed by Veolia's competition with no satisfying result. 
Solution
The Client contracted Veolia to rent an ACTIFLO® TURBO trailer (capable of 1200+ GPM) coupled with HYDREX™ chemicals. Veolia was also awarded an operations contract, offering the Client a hands-off approach.  Key to the overall success of the project, Hydrex™  chemicals supplied a blend of two coagulants and a flocculant/polymer needed with the microsand. 
Results
Veolia treated over 50 million gallons of water in clarification mode;  at instantaneous flows of 500 – 1000 GPM. Additionally, the process allowed for the recovery of approximately $5,000,000 USD in coal from the basin/pond once the pond level was brought down. The site also was able to ensure that the effluent met the plant's required discharge quality.
Mobile Water Filtration and Treatment Applications
Clarification
Using Actiflo Turbo technology to maximize capacity and minimize footprint and energy consumption
For turbidity/TSS reduction, metals removal, color, organic removal, and other precipitation/settling applications
Effluent turbidities down to 1 NTU
Flows up to 1,400 GPM per trailer
Influent TSS Levels up to 4,000 ppm
Disc Filtration
Mobile water filtration using discfilter technology with polyester medias as fine as 10 micron
Flows up to 6,000 GPM per mobile water filtration trailer
Influent TSS levels up to 200 ppm
Ultrafiltration
Up to 4 x 350 GPM  production
Turbidity <0.1 NTU maximum
SDI <3
Chemical Softening
Using ACTIFLO® Turbo technology to maximize capacity and minimize footprint and energy consumption
Hardness, alkalinity and silica reduction through lime and soda ash addition
Flows up to 1100 GPM per trailer
Polishing Demineralization
Flows to 350 GPM per vessel
Remotely regenerated - no regenerate chemical storage or neutralization required on site
Mixed-bed resins can deliver conductivities as low as 0.06 micromho-cm
Reverse Osmosis
Capacities up to 440 GPM (single-pass mode) and 180 GPM (double-pass mode) per trailer
Brackish water and seawater membranes available
High recovery technology, delivering up to 96% of influent flow
Specialty Ion Exchange
Specialty ion exchange resins available for metals removal and other specialty applications
Service DI (Deionization) trailers, providing ultra-pure water without the need for on-site regeneration
Technical Datasheets
Ion Exchange
Ultrafiltration
Clarification
Where can mobile ultrafiltration (UF) water treatment be used?
Mobile ultrafiltration technology can be applied in a variety of applications including:
RO Pretreatment - eliminate media filtration (MMF) or even settling processes
As Final Treatment - eliminate any particulates and bacteria from treated water
In Place of Settling Equipment - for precipitation, low level clarification, etc. it can remove the precipitated solids instead of using a clarifier
Recycle Stream Treatment
Cooling Tower Blowdown Metals Removal
What mobile RO water treatment systems are available?
The MORO 4x25T is a modular mobile trailer mounted reverse osmosis system to provide you with either single pass or double pass reverse osmosis treated water to meet your requirements in a flexible, fast and efficient manner.
Capacities:
Up to 110, 220, 330 or 440 gpm single pass treated water production based upon either 1,2,3 or 4 skids in operation
Up to 180 gpm double pass treated water production based
Single pass < 5% salt passage
Double pass < 2% salt passage