What is Ultrafiltration?
Ultrafiltration is a membrane technology that provides macro-modular separation to remove colloids, particles, large organics and microbiological contaminates.
Where can mobile ultrafiltration technology be applied?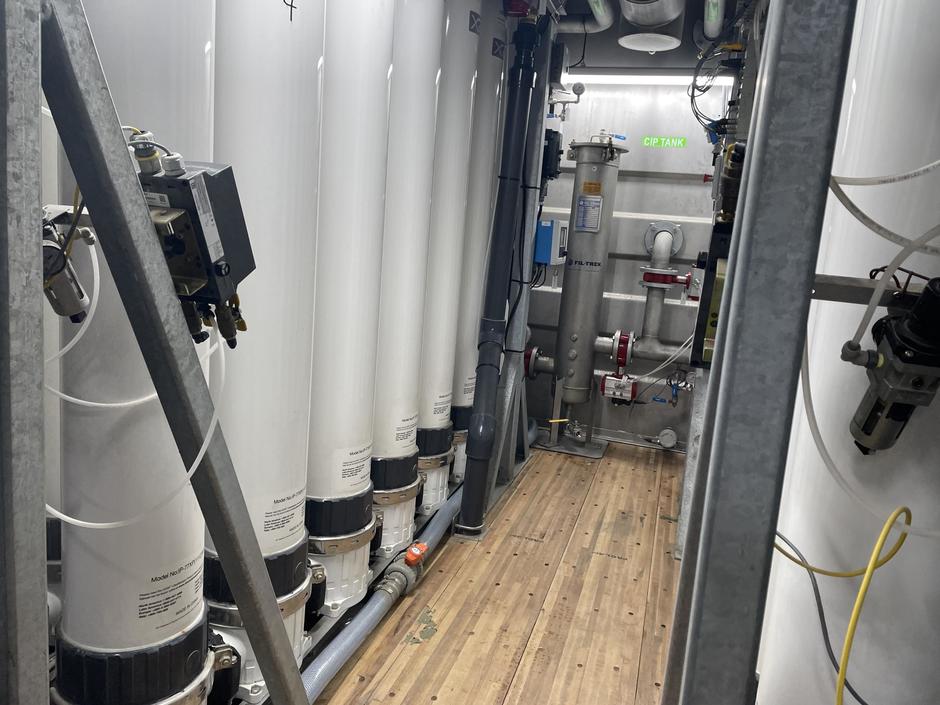 Veolia's mobile ultrafiltration unit (MOUF 4x85T®) is a trailer-mounted asset that produces up to 340 m³/hour (1,450 gpm) of treated water and is the largest mobile ultrafiltration technology available on the market today.  This asset is equipped with backwash and CIP systems inside and can be used for a wide range of applications including:
Pretreatment for process water applications (surface water, river, etc.)
RO Pretreatment - eliminate media filtration (MMF) or even settling processes
Post-treatment for wastewater applications (outlet of a WWTP / Polishing of TSS)
Wastewater reuse pilot testing applications
As final treatment to eliminate any particulates and bacteria from treated water
In place of settling equipment for precipitation, low-level clarification to remove the precipitated solids instead of using a clarifier
Recycle stream treatment
Cooling tower blowdown metals removal
What are the advantages of ultrafiltration?
What are the advantages of ultrafiltration?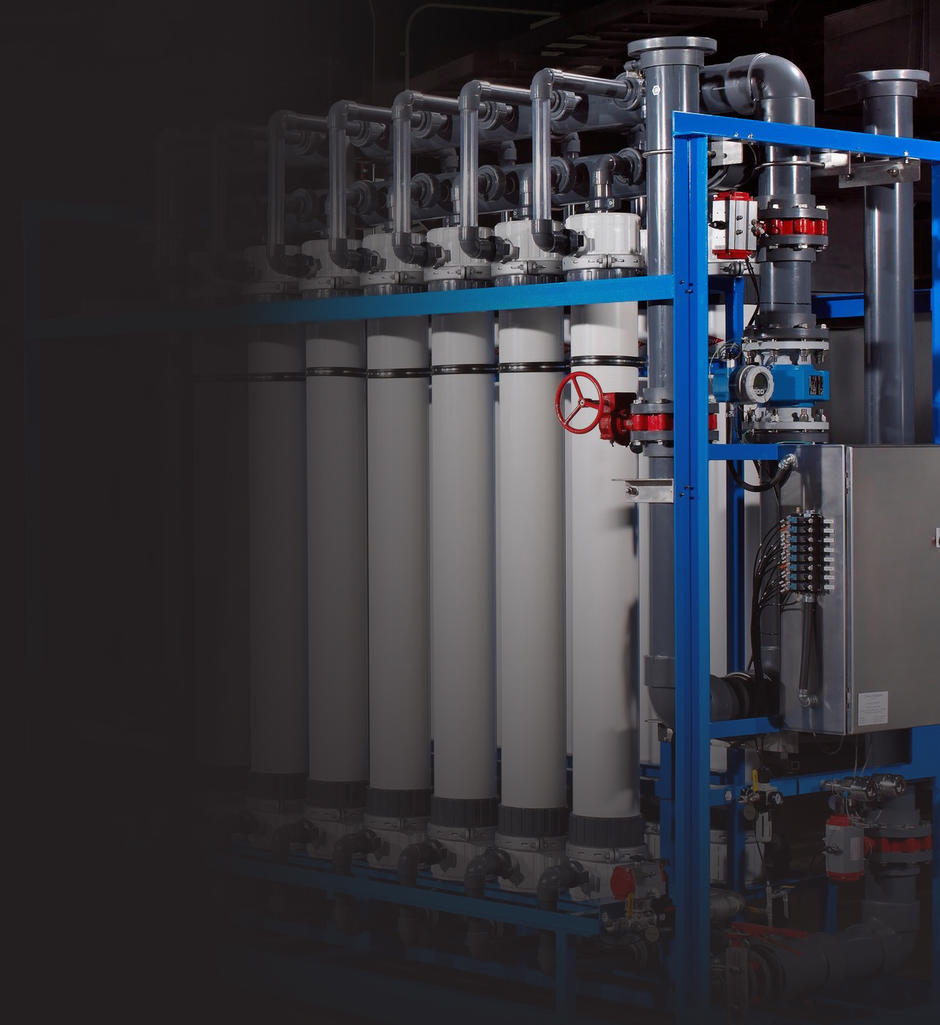 Compared to other pretreatment technologies, ultrafiltration provides:
High and consistent product quality 
Tolerance to feedwater quality upsets
Small footprint 
95% or better water recovery
Highly automated filtration and cleaning operations 
Module and skid integrity 
Usually extends RO membrane lifespan
Lower environmental impact: Conventional systems typically require chemical pretreatment such as coagulation and pH adjustment for the removal of silt and fine particles, but ultrafiltration can remove these contaminants just by size exclusion due to the small size of the membrane pores. This can lead to lower chemical consumption and lesser environmental concerns for wastewater disposal.
Ultrafiltration and Chemicals aid:  By comparison with the process of sedimentation associated with tertiary filtration,  ultrafiltration offers a much better barrier to stop the particles. Use of coagulant aid is sometimes not even necessary or, if needed, it can be minimized just to trigger a minimum reaction when a specific removal is targeted like organics or color removal. 
What are the advantages of using ultrafiltration ahead of reverse osmosis?
What are the advantages of using ultrafiltration ahead of reverse osmosis?
When ultrafiltration is applied as pre-treatment to an RO system, the RO can be designed with higher recovery, which reduces capital and operating costs.

How?  UF helps reduce fouling of the RO membranes. Utilizing UF as a pretreatment step before RO allows for reduced chemical cleaning frequency. Bacteria and virus removal also eliminates biofouling of the RO membranes. It also allows for the potential to operate the RO at a higher flux with fewer membranes and vessels. These advantages ultimately lower operating costs and minimize downtime of the units.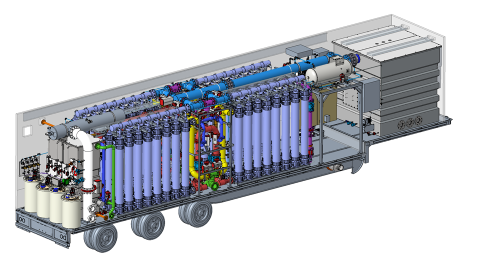 The MOUF 4 x 85T (1,450 GPM) is a mobile trailer-mounted ultrafiltration membrane filtration system to provide you filtered water to meet your requirements in a flexible, fast and efficient manner.
Speed of response
This mobile water treatment asset is capable to meet all of your treated water treatment requirements. It is deployed from our strategically located depots to ensure the optimum speed of response and minimal freight time.

Reliability
The MOUF 4x85T is designed for simple and reliable operation. A 'Plug and Play' solution, simply connect to your pressurized feed water source and receive treated water in an instant at the outlet in a fast and effective way.

Full-service offering
Our MOUF 4X85T comes complete with connection kits for both the feed, treated water and drain lines. This reduces the time to commission the system and any logistics time to procure these necessary accessories.

Treated water quality and quantity
All MOUF 4X85T's are certified to industrial water standards and come with our unrivaled performance guarantee to ensure the quality and quantity of treated water produced is to your specification at all times.

Service and operation
Our dedicated team of engineers is available to assist you during startup and commissioning. Their availability and support can be adapted to meet your requirements.
EQUIPMENT SPECIFICATIONS
| | |
| --- | --- |
| Capacity | 1450 gpm |
| Outlet quality | <0.1 NTU, SDI <3, 99.99% Removal of Bacteria |
| Temperature | All flows and rejections are based upon 60 degrees F feed water |
| Feed water quality requirements | Fe < 5 mg/l, TSS 60 < mg/l, Turbidity <50 NTU |
| Feed water pressure requirements | 45 psi (min 30 psi max 105 psi) |
| Feed water temperature requirements | 0-95°F |
CONNECTIONS
| | |
| --- | --- |
| Feed Water | 2 x 6 inch |
| Product Water | 3 x 6 inch |
| Drain Water | 5 (2 x 6 inch, 3 x 4 inch) |
| Chemical Wastewater | 2 (1 x 2 inch and 1 x 3 inch) |
| Power | Single 480V/3Ph/60Hz - 225 AMP |
CONTROLS
Control cabinet
PLC control, remote telemetry available on request
Alarms
General alarm terminals
External connections
Terminal for start/stop function
Terminals for start/stop external booster pump and alarms
4-20 mA tank level
DIMENSIONS AND WEIGHT
| | |
| --- | --- |
| Length | 48 ft |
| Width | 8.5 ft |
| Height | 13.5 ft |
| Shipping / Operating weight | 39,700 lbs / 81,500 lbs |