We are moving forward hand-in-hand with our stakeholders, – industry and agriculture, local and national authorities, NGOs, individuals and citizens –, convinced that economic, social and environmental challenges must be treated as one single challenge, in the same chain of responsibility.
Usefulness, at the heart of our strategic vision
A business is prosperous because it is useful and not the other way around.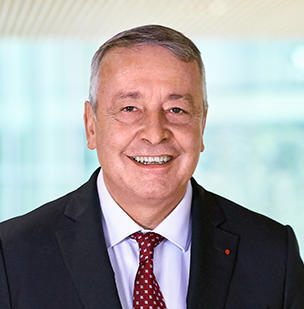 Today, natural resources are becoming increasingly scarce while our needs are growing in an ever more densely populated and urbanized world facing climate change issues.
As the benchmark company for ecological transformation we design and deploy sustainable solutions worldwide, while investing in research and innovation, for improving access to resources, protecting and renewing them. We are working to make the switch from a resource consumption rationale to a use-and-recover approach that is part of a useful circular economy, protective of the planet and the future of humanity.
Managing the business through a multifaceted performance
Veolia is committed to a multifaceted performance with the same level of consideration and expectations as regards its economic, financial, commercial, social, societal and environmental performance. Its 18 indicators are associated with progress targets for 2023. These will be regularly audited and measured by independent bodies. They will be used to calculate the variable compensation of Veolia's senior executives.
In 2009, Veolia introduced performance indicators for sustainable purchasing, which cover the need to train buyers in sustainable development and ensure that suppliers take account of CSR-related issues. They provide a credible, reliable cornerstone of the company's sustainable purchasing policy.
Veolia is evaluated on its governance, human resources management, environmental performance, sustainable purchasing and societal performance, through which it qualifies for inclusion in specialized stock-market indexes.
The safety of our employees, clients and partners is Veolia Water Technologies' primary concern.
We regard the promotion of good Health & Safety practice as a mutual objective for management and employees alike.
The first step toward risk management is knowledge
We strongly believe in making our employees aware of sources of danger, safety rules and regulations. We insist that all employees:
Follow all safety rules and regulations, which are pertinent and necessary to their position

Conform to safe working practices

Commit to completing all safety-related training and certification programs
Safety is everyone's concern
Employees partly control occupational risk prevention for themselves but also for their colleagues. At Veolia, we are committed to involving employees in health and safety initiatives and reporting, as well as in finding more reliable safety practices. 
We encourage employees to incorporate health and safety principles in everything they do and to learn to detect behavior which presents risk. We believe that everyone has a part to play in the chain of responsibility which will enable us to further reduce accidents at work.
We make sure that our employees know that their safety is our utmost priority and that they are entitled to refuse to take part in any activity where they feel that their safety might be in jeopardy.