Grignard Pure is an antimicrobial air treatment technology that inactivates the SARS-CoV-2 virus in the air, in occupied spaces - where transmission is most likely. 
Antimicrobial Air Treatment
Grignard Pure reduces the levels of airborne virus particles by approximately 100 times - making it an added, critical component in a safety protocol that includes personal hygiene, wearing a protective mask and practicing social distancing.  The product is continuously effective when in use.  
 
About Grignard Pure:
THE FIRST REGULATED

antimicrobial air treatment solution as approved by the EPA

PROVEN EFFECTIVE,

when used as directed, in inactivating the SARS-CoV2 virus in the air, where transmission is most likely

PROVIDES CONTINUOUS COVERAGE

and protection when in use

REDUCES VIRAL TRANSMISSION

from talking, sneezing and coughing - addressing a key challenge of a virus that remains in the air for hours
Interested in learning more about how Grignard Pure can help keep your business operating and employees safe during COVID?  
3 Flexible Ways to Implement Grignard Pure to Increase Safety from Airborne Viruses
Unoccupied Treatment
Unoccupied Treatment
Episodic treatment of break and restrooms and cafeterias  while unoccupied
Mobile Implementation
Mobile Implementation
Implementation using mobile units for nimble, adaptable deployments in multiple indoor environments
HVAC Integration
HVAC Integration
Permanent installation into the existing HVAC system to provide continuous treatment of large indoor spaces
EPA Approved in Several States
6 states are approved by the EPA (Nevada, Georgia, Tennessee, Texas, Maryland, Pennsylvania)
14 are in the process of approval
Each individual state must submit to the EPA for authorization, if your state is not shown and you would like your state to be considered, please contact us for the necessary documentation to provide to your state representatives.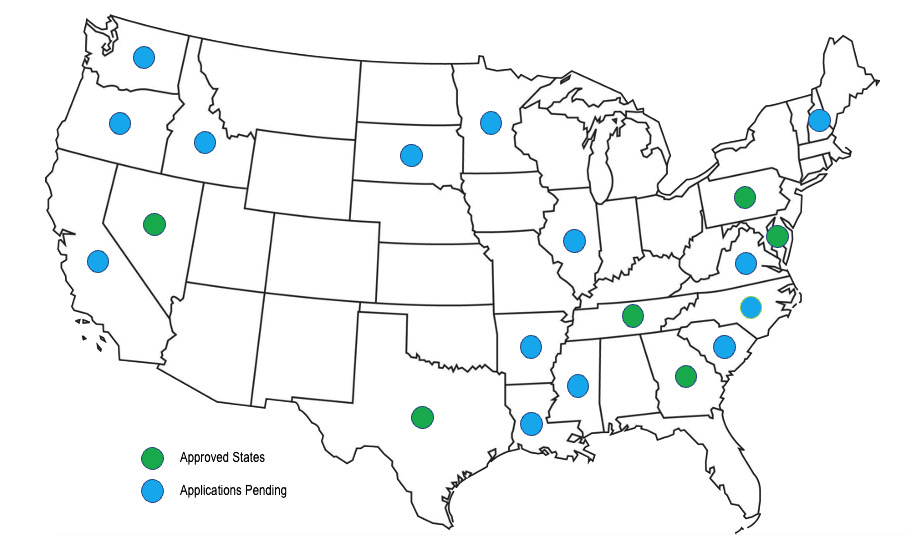 See How Grignard Pure is Helping Streamline Innovations Protect their Employees from COVID-19 and Other Airborne Viruses
Suitable Applications:
Lobbies

Office Spaces

Breakrooms

Production Floors

Meeting Rooms

Classrooms

Auditoriums

Control Centers

Construction Trailers

And more
---
Frequently Asked Questions
Grignard Pure™ is a rigorously tested EPA approved continuous, antimicrobial air treatment solution that is expected to kill more than 98% of SARS-CoV-2 virus particles in the air, when people are present, and where the CDC has told us that transmission is most likely.

Grignard Pure is the only EPA-regulated solution that provides continuous protection, killing virus particles as they enter the air from talking, coughing, sneezing – significantly reducing what is the primary cause of infection.
How Does Grignard Pure Work To Kill COVID-19?
Simple engineering, AI technology and Grignard Pure. A dispersion unit is either integrated into the existing HVAC system or set up as a "portable" installation. Grignard Pure goes into the dispersion unit, which aerosolizes it where it is then be circulated through the air handler or directly into the space. Small, wall mounted sensors are placed in the space that monitor the flow and concentration of Grignard Pure in the air and send the data back to the controller on the dispersion unit, for remote monitoring.
Is Grignard Pure A New Product Or Does It Just Have A New Name And "Use"?
The use of Grignard Pure as an effective tool to combat the spread of COVID-19 is new. Products similar to Grignard Pure have been used safely all around us for over 20 years. If you have been to a Broadway play, a live music performance, or a stage show at a theme or amusement park, you've probably "seen" the product in use. For example, event producers use the product to create lighting and other effects that add to the overall experience.
How Does Grignard Pure Kill The Sars-CoV-2 Virus?
Grignard Pure delivers what is called "continuous intervention," which simply means that the air treatment solution is constantly working to fight against the virus. The Grignard Pure solution is aerosolized and forms a vapor in the air that actually condenses on virus particles and permeates into it, disrupting the protein and membrane structure of the virus with its amphiphilic properties. What this simply means is that Grignard Pure can kill the virus as the pathogenic particles leave the person from talking, coughing, sneezing – significantly reducing what is the primary cause of infection.
Does The Solution Have An Odor Or Leave A Residue?
No, Grignard Pure does not have an odor or leave a residue.
The EPA reviewed all available data on this product's safety and concluded that it does not pose any health risks of concern. 
We have put Grignard Pure through rigorous safety testing. Government and other third party testing have shown the active ingredient in Grignard Pure to be safe. Studies conducted by the U.S. Centers for Disease Control's National Institute of Occupational Safety and Health (NIOSH) and assessment by the EPA indicates the active ingredient in Grignard Pure is safe with no toxicological endpoints identified by adverse effects.
Additionally, hundreds of millions of people around the world have been exposed to products with properties identical to Grignard Pure over the past 20 years. That includes a range of places from museums to conventions to banquets, entertainment venues and more.
How Was It Tested For Safety And Efficacy?
Grignard Pure worked with frequent EPA third-party testing lab Microchem to conduct two separate tests to prove that it kills more than 98% of Sars-CoV-2 virus particles in the air where transmission is most likely.
Intrinsik, a globally-recognized scientific and regulatory consulting firm providing expert regulatory and toxicology advice, conducted a Toxicology Risk Assessment which confirmed the product is safe for use, when used as directed and a population is exposed for extended periods of time.
Maintaining airborne concentration levels of between 0.5mg/m3 to 3mg/m3  kills the SARS-CoV-2 virus. All independent testing has confirmed that only when levels reach the threshold of 1000 mg/m3 do they begin to pose an exposure danger to humans.
What About People Who Are Immuno-Compromised?
The safety of air treatment products like Grignard Pure is demonstrated by their long history of use with no significant health concerns reported. NIOSH concluded that an air treatment product like this did not affect people with asthma.  The EPA has said that the active ingredient in Grignard Pure is not expected to cause adverse effects when inhaled, although temporary irritation to eyes, nose, and throat may occur to sensitive individuals. 
How Much Grignard Pure Needs To Be In The Air To Be Effective? And Was That Level Tested For Safety?
The concentration of Grignard Pure that needs to be in the air to be deemed effective is between 0.5mg/m3 and 3mg/m3. This equates to a non-visible or very light haze, and the effectiveness and safety of these levels were both addressed in our independent laboratory testing. For comparison, the amount that would need to be in the air to even begin to approach levels that would warrant potential concern is 1000mg/m3.
Does The Presence Of Grignard Pure Eliminate The Need For PPE?
We believe that Grignard Pure can be the final, key component of a complete COVID-19 safety strategy that includes social distancing, mask-wearing, and proper hygiene. It does not replace the need for PPE but by reducing the COVID-19 particles in the air, it definitively lowers the risk of transmission.
Does PPE Reduce The Effectiveness Of Grignard Pure?
Absolutely not. Grignard Pure complements the use of PPE and in fact when Grignard Pure is present in indoor environments where people are using PPE, the risk of transmission is significantly reduced due to the effectiveness of Grignard Pure in reducing the viral load in the air. 
Is Grignard Pure Effective Against Variations Or Mutations Of The COVID-19 Virus? Has It Been Tested On Variations Or Mutations Of The COVID-19 Virus?
Yes. Under the EPA's Section 18 Public Health Emergency Exemption, Grignard Pure is approved for use in killing the SARS-CoV-2 virus, including variants of it as well.