The Challenge
The client urgently needed to remove 200,000 m3 – 300,000 m3 of water from tailings pit in three months. Thhe mine operations were in an environmentally sensitive and remote area.

The client needed to dewater the mine pit in order to meet blasting target date. The production schedule was critical. Therefore, the rapid mobilization of a mobile water treatment system and Hydrex water treatment chemical program was imperative.
The Solution
Veolia Water Technologies supplied a bundled package of a customized mobile Actiflo®  clarifier, reactor mix tanks together with a comprehensive range of Hydrex chemicals. The Hydrex program included Hydrex 3253 and Hydrex 3515.
Process Description 
The mobile water treatment process consists of metal precipitation in reactors followed by Actiflo® clarification in order to meet Federal Water Quality Objectives.  The Hydrex program included commodity precipitation chemicals (Hydrex 3253 - ferric sulphate in combination with Hydrex 3515 (anionic polymer) at 10 mg/L. The mobile Actiflo unit was designed to treat a capacity of 10,000 cubic metres per day.
The Results
The Actiflo-Hydrex combination produced a treated water with the following characteristics: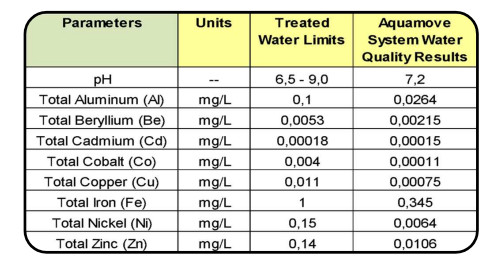 All discharge permit requirements and the mine pit was dewatered in advance of the deadline such that blasting could be completed as scheduled.
The Client
Teck Resources is one of the largest mining companies in the world. Their Coal Mountain Operations is 30 km from Sparwood, BC.