The Challenge
Brewery wastewater contains a large amount of organic material. In many cases, municipalities find it difficult to treat the wastewater from breweries. This commonly results in increased sewer surcharges and stricter discharge regulations. Sleeman's brewery in Guelph, Ontario, was challenged to significantly reduce the BOD load entering the municipal wastewater treatment system to ensure regulatory compliance and reduce sewer surcharges. As a result, Sleeman needed to install a high performance wastewater treatment technology solution to treat the brewery's wastewater prior to discharging to the municipality. 
 
The Solution
Veolia Water Technologies partnered with Sleeman to install a BIOBED® EGSB (Expanded Granular Sludge Bed) anaerobic digestion system. The BIOBED EGSB is a wastewater treatment system designed to significantly remove BOD/COD in a very compact footprint. Additionally, the system has lower operational costs when compared to aerobic wastewater treatment technologies and produces biogas as a byproduct. Sleeman installed the new anaerobic technology to treat wastewater prior to the discharging to the municipality.
The Results
The BIOBED EGSB is able to provide reliable treatment performance to accommodate a high variability in wastewater flows and characteristics. The anaerobic reactor is able to continuously achieve, on average 90% SCOD removal (red line below), at an average Volumetric Loading Rate of 18.75 kgTCOD/m3/d.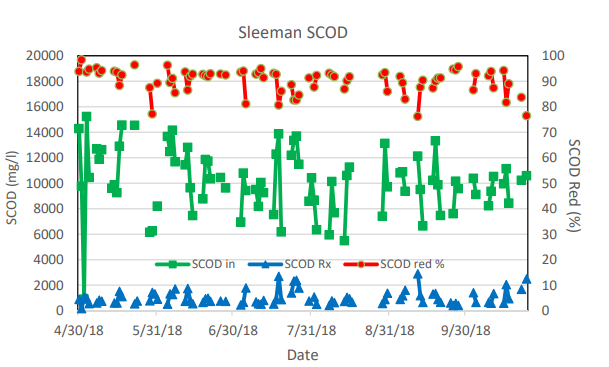 Key Project Info
Project Location:
Key Technology
BIOBED® EGSB (Expanded Granular Sludge Bed) 
Wastewater characteristics
Flow: 1800 m3/d (475,000 gpd)
Influent COD: 4600 ppm 
Volumetric Loading Rate: 19.8 kgCOD/m3/d
COD Removal: > 82%