What is precoat filtration?
Precoat filtration is a proven reliable and very effective way to remove suspended solids from a liquid stream.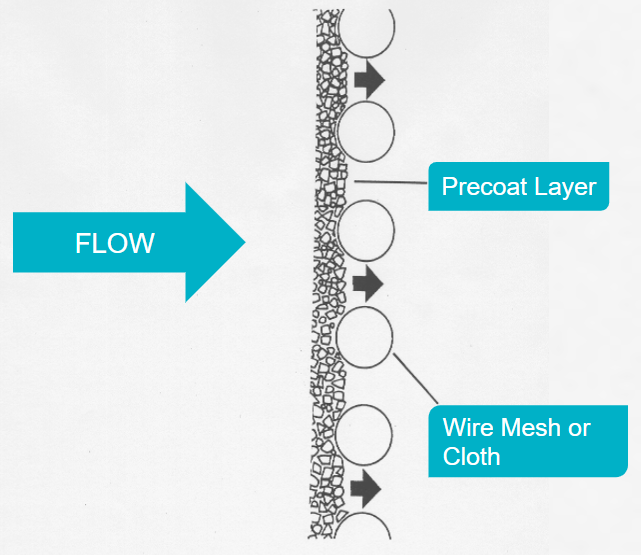 About Precoat Filtration Technology
Precoat is a layer of filtration medium such as cellulose, perlite, diatomaceous earth that is deposited on the surface of a filter element inside an Auto-Jet pressure leaf filter. During filtration, that precoat layer is the one responsible for retaining particles as small as half a micron.

Precoat filtration or pressure leaf filtration, technology was invented in the 1920s and it has really withstood the test time. Today it is still in use in multiple applications around the world and is a practical and effective way to remove suspended solids from a liquid to stream.

Veolia has improved this technology by adding several custom features that makes the Auto-Jet a leading precoat filter. This technology provides a fine filtration down to half a micron in one milligram per liter range. It is fouling resistant as the cake permeability can be continuously regenerated by the addition of a filter aid. This allows us to filtrate a wide range of solid types that might blind other technologies.

Applications that are pressure, temperature and pH-dependent are only limited by the material availability.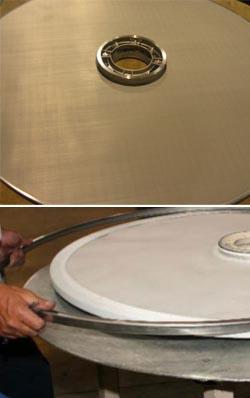 Various types of Filter Leaves
A critical element in any precoat filter is the filter leaf. Filter leaves act as a substrate to allow the filter aid be applied to.  Filter leaf systems can be made from a variety of materials and shapes. Stainless steel is a common material choice because of its reliability and resistance to corrosion. It is also used in applications where the filter leaf would be in contact with food or beverage products.
Some filter systems also feature a leaf that is covered with a layer of fabric. A fabric cover is a precisely sewn component made from polypropylene, polyester, or nylon. The leaf cover is then installed very tightly around the filter leaf. 
Types of Filter Aids Used in Precoat Filtration
Filter aids are applied within the filter and adhere to the leaves inside the filter vessel. Three of the most commonly used filter aids used in precoat filtration are diatomaceous earth, perlite, and cellulose. These materials are commonly used because their microscopic structure allows for highly efficient caking on the filter leaf. This caking allows for even coverage on the leaf and attributes to the increased solids removal performance of precoat filtration.
Another advantage of these precoat filter aids is that they inert and do not affect the quality of the product being filtered. Also, these filter aids can be safely used in food and beverage production facilities, and not impact the taste or product quality. 

Where is precoat filtration technology best applied?
This technology is best applied where there is a need to remove suspended solids down to half a micron, 1 ppm range. Where the liquid needs to be finely polished due to downstream process requirements, it is a good alternative to remove large amounts of solids well over 100 milligrams per liter.

It has been used very successfully in many applications in the mining, food and beverage, and chemical industries. The technology provides a robust proven and very repeatable effluent stream needed for downstream processes. It is very easy to operate. It has a self-cleaning mechanism, is fully automated and it has very low maintenance requirements. 
What are the advantages of precoat filtration?
What are the advantages of precoat filtration?
Fine filtration (0.5 to 1-micron) for a wide range of applications

Solids removal down to < 1 ppm
Fully automatic operation
Internal elements protected from fouling due to precoat layer
Cake permeability continuously regenerated by body feed addition
Can handle a myriad of solid types that would quickly blind other technologies
A good alternative for removing large amounts of solids
Relatively low capital cost
Durable and robust equipment
Press/Temp and pH applications are limited by material availability only
Acid/Caustic CIP cleaning if needed
Various materials of construction:

Carbon steel coated
Stainless steel
High alloy materials
What are the various types of precoat filters?
What are the various types of precoat filters?
Rotating Leaf Filter Design (Auto-Jet)
Horizontal filter with cylindrical vertical leaves
Fully-Automatic Operation
Wet cake or Dry cake discharge designs
Easy filter leaf removal/installation
Door Types:

Auto-Lok - Quick opening
Swing Bolted
Roto-lok  - Quick opening
Fixed Leaf Filter Design (Filtra-Matic)
Horizontal tank with vertical leaves
Rotating sluicing spray header with fixed leaves
Fixed vibrator for dry cake designs
Breech-lok door design - quick opening
Manual or fully automated retractable tank or bundle
Easy access to filter leaves
Larger flow capacity 
Classical Tubular Design (Candle Filters)
Self-contained internal backwash liquid source. There is no need for auxiliary equipment such as external backwash pumps or tanks
Rapid cleaning cycles. With minimum downtime, the need for additional filters is eliminated
Removable tubular bundled assembly which can be easily replaced and/or maintained as a single unit.
Small footprint that minimizes installation costs and facilitates installation around existing infrastructure
Engineered tube design with perforations along its entire length to reduce pressure drop during filtration and ensure optimal distribution of the backwash energy during cleaning
What is filter aid?
Filter aid, also known as precoat, is deposited on top of the leaves that create a layer that allows for fine filtration.  The filter aid material could be diatomaceous earth, cellulose, or perlite.  
How does filter aid work?  
How does filter aid work?  
Precoat, or filter aid, is added to the filter and the precoat materials wedge themselves creating a layer on top of the wire or the cloth screen of the leaves. The thin precoat layer is permeable and can allow water to go through while filtering out any of the solids.  
What are examples of pressure leaf filters?
What are examples of pressure leaf filters?
Veolia's Auto-Jet is a premium self-cleaning pressure leaf filter designed for efficient filtration in the most severe applications. Due to its superior, patented design, Auto-Jet maintains its full-rated capacity even where heavy, sticky or unusually tenacious cake is encountered. Its efficient sluicing system ensures thorough cleaning of every square inch of filter surface area each cycle. Engineered for filtration efficiency, Auto-Jet features uniform leaf construction for leaf interchangeability and to provide uniform precoating, filtration and cake buildup.