HPD® Evaporation and Crystallization solutions from Veolia Water Technologies provides the soda ash industry complete process solutions for mechanically mined trona, synthetic production, and solution-mined deposits. This includes brine pre-treatment, brine stripping, sodium carbonate and sodium bicarbonate crystallization as well as purge recovery through the use of sodium carbonate decahydrate crystallization.
Unique Soda Ash Processes from Extensive Pilot Testing
Veolia's state of the art Evaporation and Crystallization Research and Development Center in Plainfield, Ill. is critical in the development and demonstration of complete process solutions to customers prior to a commitment on large capital expenditures.
Such developmental studies have involved core leaching, feed stock preparation, brine treatability studies as well as producing sodium carbonate and sodium bicarbonate material for use by the client in marketing to prospective to potential consumers and investors. The use of this facility has also been involved in many de-bottlenecking and optimization projects for existing facilities.
Applications and expertise include:
Pretreatment systems for solution-mined natural ores
Sodium carbonate monohydrate crystallization
Sodium bicarbonate crystallization (reactive and/or cooling)
Sodium carbonate purge minimization and alkali recovery
 
Soda Ash Experience
| Chemical Name | Formula |
| --- | --- |
| Soda Ash or Sodium carbonate | Na2CO3 |
| Sodium carbonate monohydrate | Na2CO3•H2O |
| Baking Soda or Sodium bicarbonate | NaHCO3 |
| Sodium Carbonate Decahydrate | Na2CO3•10H2O |
American Soda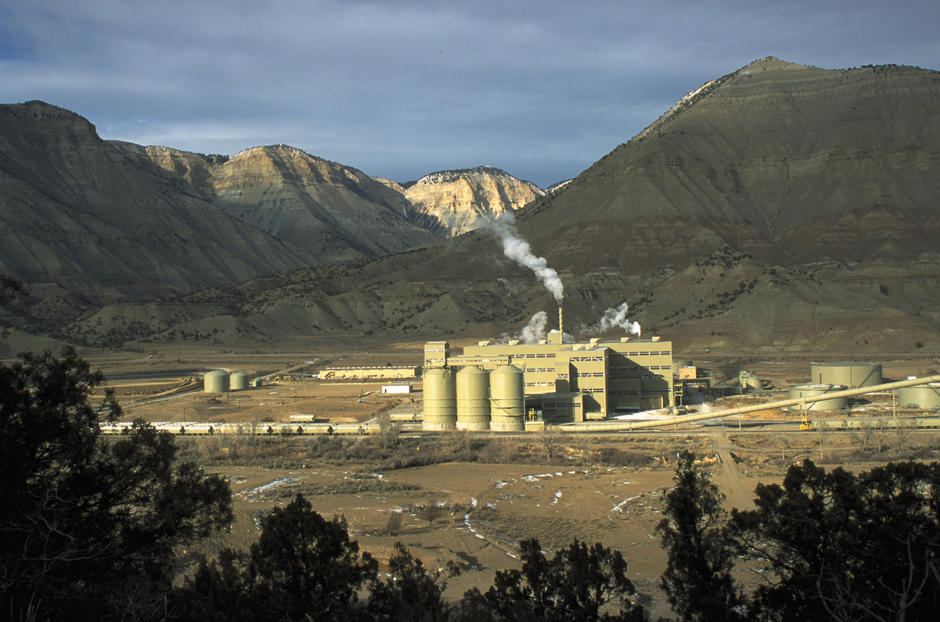 Project Description
Through innovative process development and results-oriented pilot testing, Veolia Water Technologies helped American Soda reach their goal to produce exceptional high-quality soda ash and high-purity sodium bicarbonate from natural nacholite deposits.
An HPD® sodium carbonate monohydrate crystallization system and a unique HPD sodium bicarbonate crystallization system were the first of several commercial production systems that Veolia would design and supply to the soda ash producer.
 
The Client's Needs
American Soda set high expectations for their new $300 million Parachute, Colorado facility. They wanted to be the world's most efficient and lowest cost producer of soda ash and sodium bicarbonate while producing these products in an environmentally responsible way.
To reach these objectives, American Soda needed efficient crystallization systems specifically designed to produce soda ash and sodium bicarbonate from a natural nacholite deposit, unlike the conventional trona method.
 
Project Development
Veolia developed a unique and efficient process to produce the soda ash and sodium bicarbonate. To test and validate the new process and determine optimal operating conditions, a custom pilot-scale system was designed and built for the project.
Utilizing the pilot system, one ton of sodium carbonate monohydrate crystals and one ton of sodium bicarbonate were produced which American Soda used for market testing. The successful pilot testing led to the design, fabrication and installation of the commercial sodium carbonate monohydrate crystallizer system.
Technology Solutions
Sodium Carbonate Monohydrate Crystallizers
The two, 32-foot diameter HPD sodium monohydrate crystallizers are the heart of the plant's production.

Production capabilities exceed the required capacity of one million tons of dense soda ash (DSA) annually.

Pilot testing in the crystallization research center demonstrated that the product quality would meet or exceed the market's needs.
Sodium Bicarbonate Crystallizer
The innovative HPD cooling style crystallizer was pilot demonstrated to validate the new process.

The commercial system has shown exceptional performance with annual production capacity of 150,000 tons of sodium bicarbonate.

The unique design has greatly extended clean out frequencies from normal industry practice.
Sodium Carbonate Decahydrate Recovery System
American Soda requested suggestions for management of a monohydrate purge stream for an alternative to external disposal. Veolia recommended and installed an HPD sodium carbonate decahydrate crystallizer for additional product recovery.

The decahydrate system operates at a low temperature to provide alkali recovery from the purge with capacity up to 260,000 tons annually.
Sodium Bicarbonate Solids Handling Improvements
Ongoing evaluations helped identify another area of opportunity for American Soda. Veolia provided a bicarbonate curing system, which enhanced product quality and opened new markets for American Soda by providing additional grades of product.
The Results
American Soda has experienced reliable production of soda ash and sodium bicarbonate at exceptional product purity. Each system and equipment enhancement supplied by Veolia Water Technologies was smoothly integrated into the facility and met the local environmental requirements.