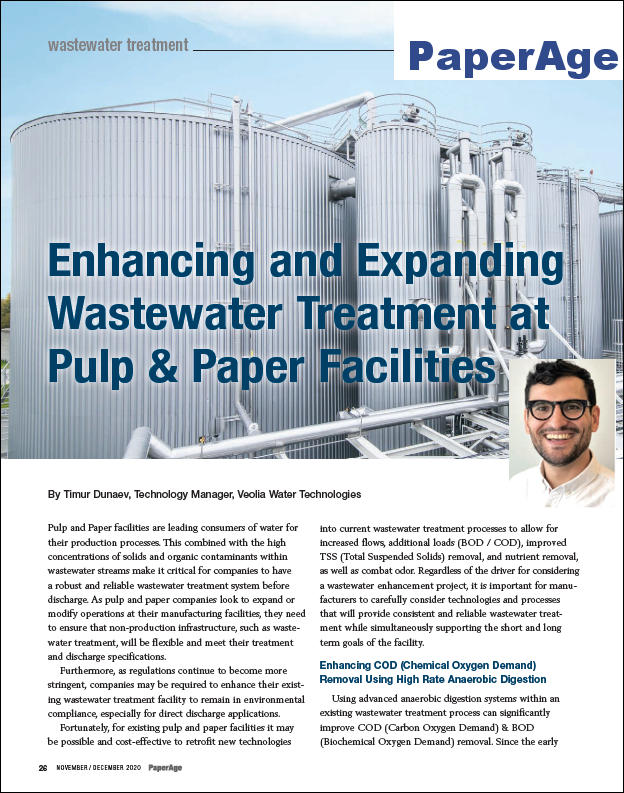 Article Written By Timur Dunaev
Pulp and Paper facilities are leading consumers of water for their production processes. This combined with the high concentrations of solids and organic contaminants within wastewater streams make it critical for companies to have a robust and reliable wastewater treatment system before discharge. As pulp and paper companies look to expand or modify operations at their manufacturing facilities, they need to ensure that non-production infrastructure, such as wastewater treatment, will be flexible and meet their treatment and discharge specifications.
Furthermore, as regulations continue to become more stringent, companies may be required to enhance their existing wastewater treatment facility to remain in environmental compliance, especially for direct discharge applications.
Fortunately, for existing pulp and paper facilities it may be possible and cost-effective to retrofit new technologies into current wastewater treatment processes to allow for increased flows, additional loads (BOD / COD), improved TSS (Total Suspended Solids) removal, and nutrient removal, as well as combat odor. Regardless of the driver for considering a wastewater enhancement project, it is important for manufacturers to carefully consider technologies and processes that will provide consistent and reliable wastewater treatment while simultaneously supporting the short and long-term goals of the facility......
Read this Article in the PaperAge November/December 2020 Issue Here