Efficient Sulfide Treatment Solutions for Municipal and Industrial Facilities
Veolia Water Technologies is able to utilize a combination of chemistry and equipment technologies to mitigate the risks associated with high levels of H2S at your facility. Our solution doesn't mask the problem, it proactively works to eliminate it.
Safe and Efficient Odor Control Program
Where Chemical Expertise, Impeccable Service, and Quality Chemical Technologies Meet
The generation of Hydrogen Sulfide (H2S), a byproduct of sulfate-reducing bacteria in wastewater systems, poses both health & safety as well as operational threats for industrial and municipal operators of these plants.
Hydrogen sulfide is treated in both liquid and vapor phase to reduce these compounds, making working conditions safer, and reducing corrosion rates to extend the life of the wastewater systems.
Versatile Treatment Options
Veolia's Hydrex™ Sulfide Elimination System offers clients several treatment options that are non-hazardous, pH neutral, and biodegradable. The Veolia treatments provide a non-toxic, environmentally friendly alternative chemistry option to other approaches and are extremely effective in both the vapor and liquid phases.
On-Demand Webinar | Watch Now
Several strategies and technologies are available to treat odor caused by hydrogen sulfide, but selecting the best application can be challenging. Join us at this webinar to better understand the risks and solutions related to controlling sulfide-based odors.
Hydrex™ Odor Control Program Benefits
Green chemistry, Safe &Non-Hazardous
Lowers Overall Chemical demand/cost
Reduces Chemical Deliveries
Lowers Total Operating Cost
Fast and Effective Removal of H2S
Broad Applicability
How the Hydrex™Sulfide Elimination System Works
This two-step process uses environmentally sustainable and biodegradable chemistries for efficient sulfide removal.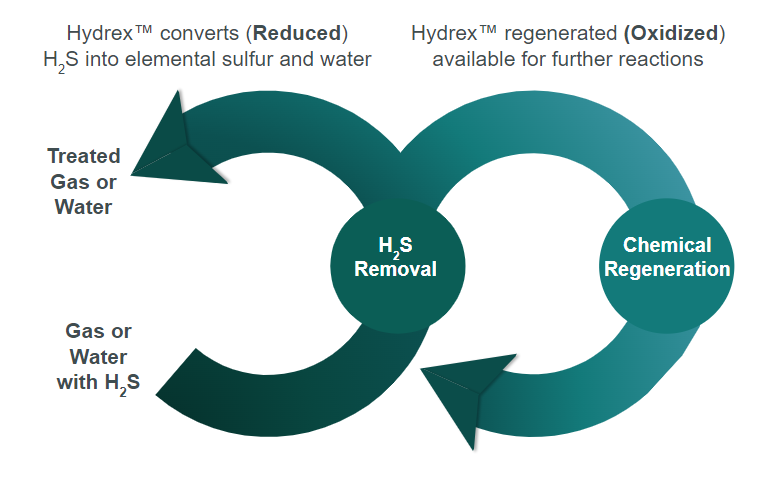 A. The Reduction Step
At a molecular level, the reagent removes electrons from the sulfide molecule, converting the sulfide into inert and safe elemental sulfur that cannot reform into sulfide. 

B. The Oxidation Step
The reagent then reacts to an oxidant which converts it back to its original form, ready to attack and reduce another sulfide molecule.
This process continually works to enable the rapid and efficient destruction of sulfide until H2S levels have been reduced to an acceptable level.
Contact Information for the Hydrex Sulfide Elimination System
Hydrex™ Sulfide Elimination System - Liquid Treatment Program
Highly effective treatment of sulfides in water to eliminate odors and corrosion

Regenerative chemistries result in a longer, robust treating cycle

Infinitely scalable GPM's to MGD's

Closed or open systems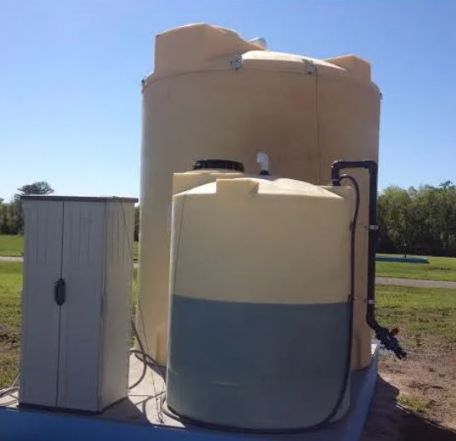 Liquid Phase Hydrex SES
Where the Hydrex™ Sulfide Elimination System Can be Implemented:







Hydrex™ Sulfide Elimination System - Vapor Treatment Program
Treat aerobically to eliminate odors

Repurpose existing wet scrubbers with Hydrex– 60 to 90 day lifecycle

Reduce expenses and HSE liabilities

Valkyrie Next Gen Scrubber sized to meet specific need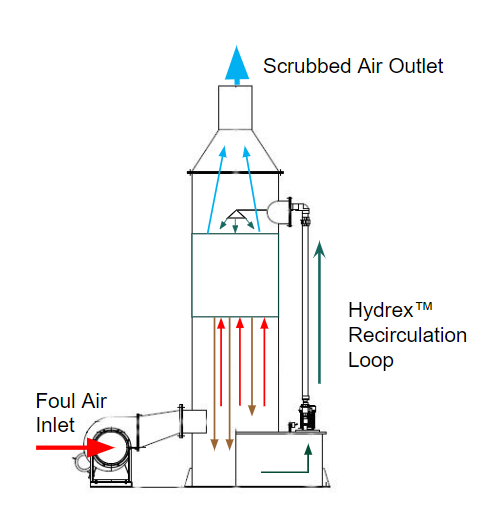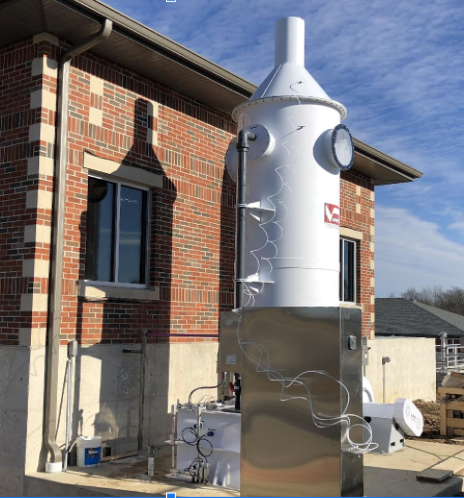 Next Gen Aerobic Scrubber
Next Gen Aerobic Scrubber
Hydrex™ Sulfide Elimination System (HSES) helps a Midwestern Ethanol Producer solve downstream corrosion issues
Odor issues at a Central Ohio wastewater treatment plant clarification system resolved