Actiflo® Duo is a two in one ready-to-use system designed to adjust to substantial fluctuations in wastewater flows to be treated.
Actiflo® Duo can operate as a Multiflo® format (or conventional lamella clarifier) in times of low flow, such as in dry weather, or as an Actiflo®, i.e. coagulation/flocculation and settling ballasted with microsand in times of high flow, such as in wet weather.
This high operational flexibility in treatment operation is also especially important in managing excess flows during periods of heavy rainfall.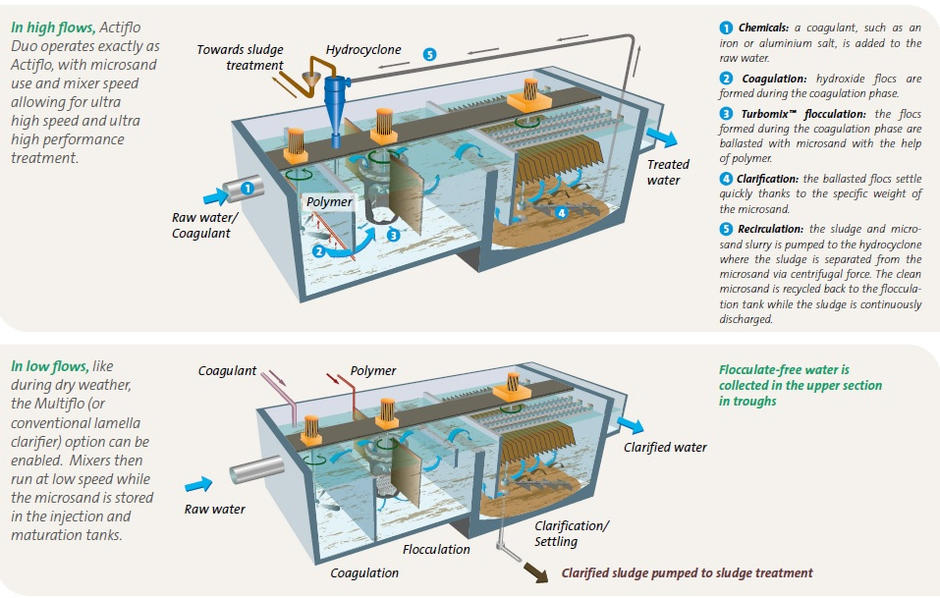 Benefits
Exceptional treatment performance regardless of field of application.
Operational flexibility
Optimization of installed equipment at lower operating costs. 
Lower civil engineering costs thanks to process compactness. 
Easy-to-use process: simply operation demanding little attention from operators.
Applications
Wastewater primary, secondary and tertiary treatment
 
Some References
Illawarra, Sydney, Australia, 2006, 160 000 m3/day, CSO-120m/h treatment
Hartevann (Bykle), Norway, 2011, 5 800 m3/day, secondary treatment, MBBR-70m/h clarification
Tranemo, Sweden, 2004, 12 000 m3/day, CSO-89m/h tertiary treatment
Port Clinton, USA, 2004, 91 000 m3/day, CSO - 88m/h primary and tertiary treatment
Danang Beach Resort, Vietnam, 2011, 13 000 m3/day, secondary treatment /MBBR - 110m/h clarification
Resources & Product range